Peter Muller-designed Audette House listed in Castlecrag
Peter Muller-designed Audette House listed in Castlecrag
Audette House, the 1953 Peter Muller -designed Castlecrag residence inspired by Frank Lloyd Wright's Fallingwater, has been listed through Richardson & Wrench Castlecrag agent Mark O'Brien.
No price guidance initially ahead of its June 20 auction for the north facing waterfront reserve architectural gem, but after the weekend's first open - with 70 plus through - it is confidently tipped to fetch around $6 million.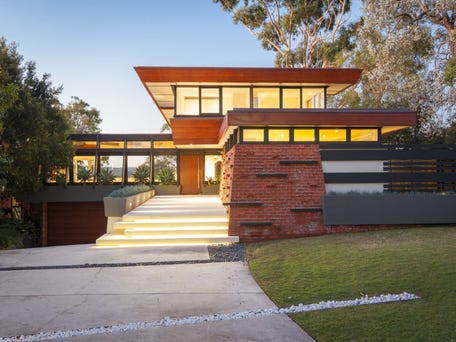 It last traded in 1998 at $1.75 million and before that in 1964 for 24,500 pounds.
It was commissioned, with its subtle affinity to traditional Japanese architecture, for an American, R. B. Audette, after Muller returned from studying at the University of Pennsylvania.
Much admired by Sydney's architectural cognoscenti, the house on its 997 square metre double block was the first commission for the long celebrated Peter Muller. 
Set at 265 to 267 Edinburgh Road, architects Peter Monckton and Kerry Fyfe undertook its renovation and extension with input from the original architect in 2002-2003 for the McCann family.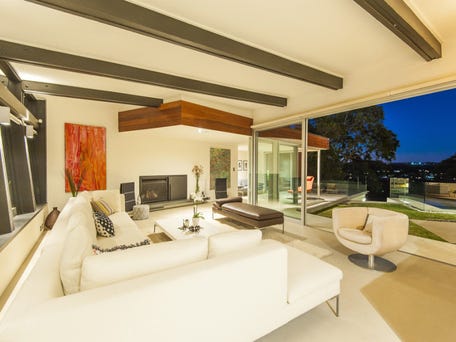 Dedicated to the modern, organic school of architecture, Muller had designed the house along three axes: a longitudinal spine intersected by two traverse axes, with the house having a distinctive linear form, composed of a flat roof and wide-banded walls.
Title Tattle seems to recall that the 'snotted brickwork' of Audette House was not as originally planned, but Bob Audette didn't proceed with sandstone for all external walling, instead substituting used wire-cut bricks.
Muller devised a technique in which the mortar oozed out the grout lines in between courses of the bricks - the technique is now known as 'snotted brickwork.
The large open plan living areas with solid Silver Ash and Caliza Viva limestone flooring flow to the enormous alfresco entertaining terrace with integrated stainless steel bench, Smeg BBQ and built-in fridge.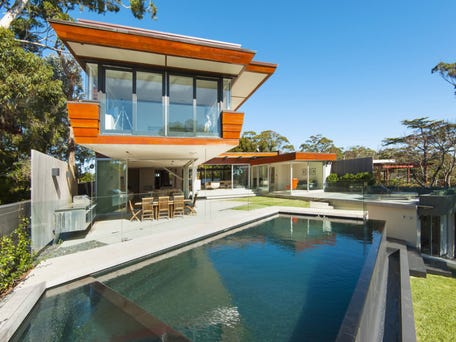 Landscape architect Jane Irwin designed a terraced garden that complements the five bedroom, four bathroom house.