Peter Maltezos
wrote on Wed, 27/03/2013 - 08:24
Gone, but not forgotten! 
The Federal Coffee Palace
Completed in 1890
Architect: Wiliam Pitt
Style: Victorian/Second Empire
From Collins, The Story of Australia's Premier Street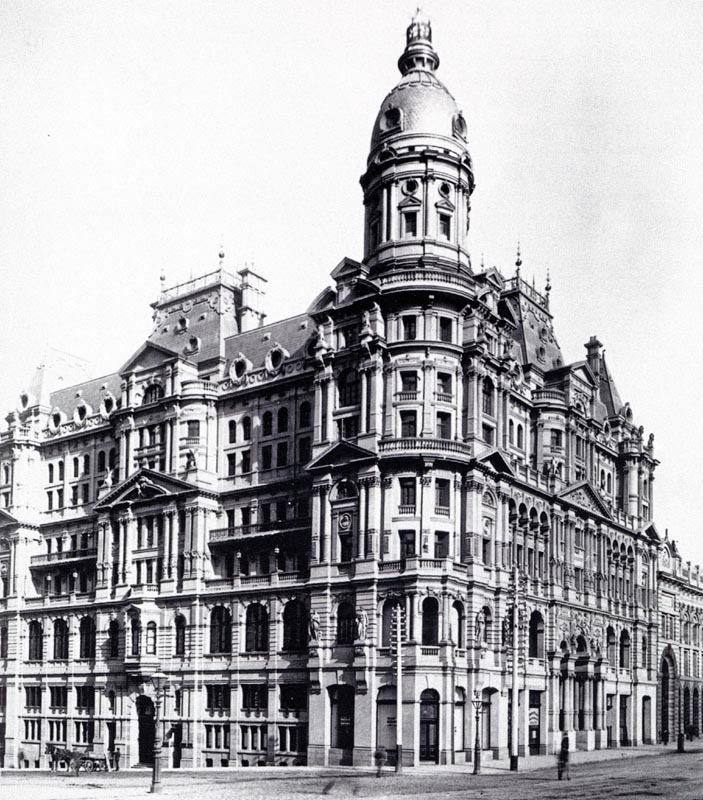 There is an extensive basement under the whole structure comprising large kitchen, scullery, bakehouse and oven, cutting-up rooms, icehouse, engine and boiler rooms, and extensive cellarage. The ground floor is on a level with the pavement at the Collins Street entrance. The principle entrance is from Collins Street under an arcaded loggia of fourteen Ionic columns leading through an inner vestibule, from which are entrances to the large dining hall, coffee bar, and large billiard room for four tables.
The first floor is entered by the grand staircase. The treads of this staircase are white marble with risers of red marble all polished. Strings and hand-railing are richly moulded in Keene's cement with balusters in red marble between ornamental bronze panels…The ground floor entrances are paved with black and white marble, with a few red marble squares introduced to match the risers of staircase…There are reading rooms, smoking rooms, manager's offices, and two floors of offices and shops facing street frontages.
A stone staircase occupies each angle of the building; there are three passenger and goods lifts and three ditto for closets running the whole height of the building. On the first floor there are the large family dining room, ladies ditto, drawing room, bridal chamber with bath and dressing rooms under dome (a circular apartment 18 feet in diameter), reading rooms, smoking rooms, chess rooms, sitting, dressing, bed rooms, and bathrooms, with a balcony overlooking streets. The third, fourth, fifth, sixth and seventh floors contain large sitting rooms and bedrooms, baths and closets, so arranged over one another as to be easily approached by the lifts.
Besides the fireproof staircases in angles of the building, there is also a 5-feet principal staircase running from the first floor level to the top of the building opposite the marble staircase with the passenger lift running about 200 feet per minute at the side…The lifts are all being imported from Europe by Glass, agent for Messrs Waygood and Sons.
There is an extensive promenade on the roofs, and a very good view from the city can be had from the summit of the dome, which will be 165 feet from the pavement at the corner of King-street and Collins-street.