Peter Maltezos
wrote on Fri, 19/07/2013 - 07:57
Text from Melbourne Architecture
Storey Hall, former Hibernian Hall
344-346 Swanston Street
1887 Tappin Gilbert & Dennehy;
1992-95 Ashton Raggatt McDougall (ARM) with Allom Lovell Associates; 1997 Grany Amon with ARM
Storey Hall is a tour-de-force of cerebral architecture and formal virtuosity. Restoration and refurbishment of Hibernian Hall and replacement of its ghastly 1960s interior was complemented by an entirely new structure to the hall's south. Containing now a 750-seat auditorium, conference centre, lecture theatre, seminar rooms, art gallery and café, Storey Hall is a remarkable architectural advertisement for RMIT University. Green is the dominant colour and refers to the Hibernian Irish Catholic community who built the 1887 hall, and also, when combined with purple and white, the colours of the Women's Political Association (associated with the hall from 1916). There are other references, too -architectural, mathematical and social, religious. The building is devotional-fragments of much-loved Melbourne monuments such as the Griffins' Capitol Theatre ceiling and Ron Robertson-Swann's canary yellow Vault appear in the upper level foyer and the auditorium. Mathematician Roger Penrose's deliberations on the pentagon are given expressionistic range in the auditorium ceiling and also recalled is Buckminster Fuller's folded map of the world in triangles. The annexe foyer is like walking around the outside of the inside skin of a cathedral dome before reaching a foyer with a purple padded balustrade. Outside sculpted metal panels embossed with lacy suspender belts and the words 'Resurrection City' hint at the finally most profound layer of embodied meaning.
Two photographs by me of Hibernian Hall and Storey Hall also fondly known as the Green Building below.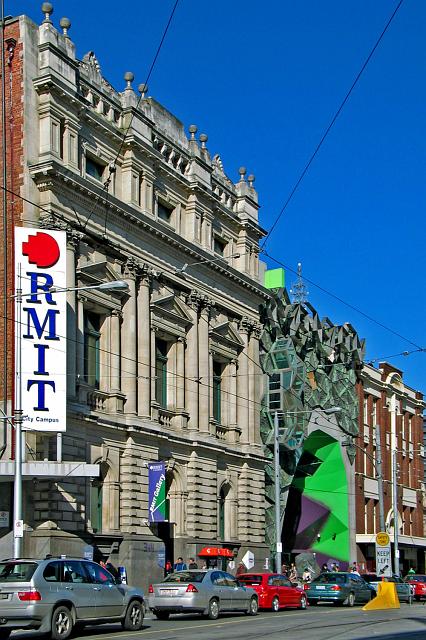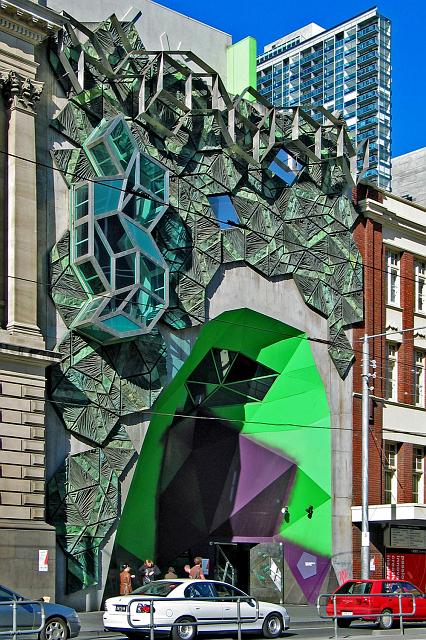 Below, a photograph by another of the auditorium.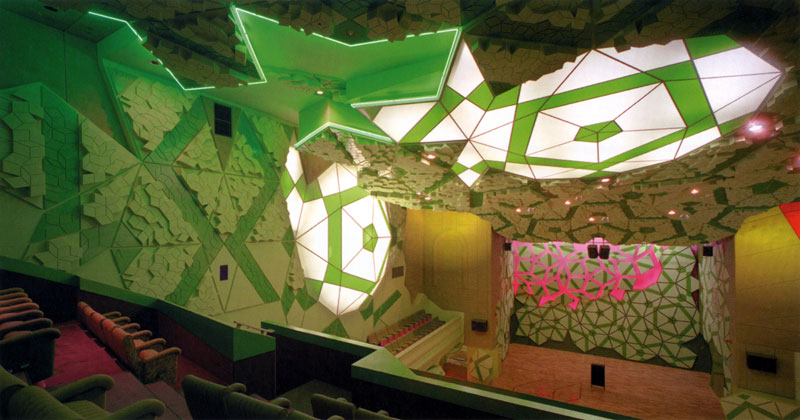 Another shot by me, this time Building 22 with its amazing green awning designed to complement the neighbouring Storey Hall.