If you are buying with a long-term horizon in mind, there is little to fear
It's not a fashionable thing to point out, but as RP Data's Cameron Kusher notes, Sydney property prices have comfortably underperformed the growth in household incomes for over a decade now.
Of course, this doesn't fit with the "it's never been tougher than today" rhetoric that seems to be popular right now.
Ask anyone who actually bought property in 2003 or early 2004 in Sydney and they'll tell you a rather different story, though.
Similarly, those of us who own property bought back in the 1990s will tell you it wasn't much fun grappling with cripplingly high interest rates and significantly higher unemployment levels then either.
Of course, dwelling prices will forge on to "all-time highs" in Sydney, Perth and Melbourne in 2014... just as median wages, household incomes, GDP, the Australian population, the total number of employed Australians, the volume of Australian bulk commodity exports and so on will as well.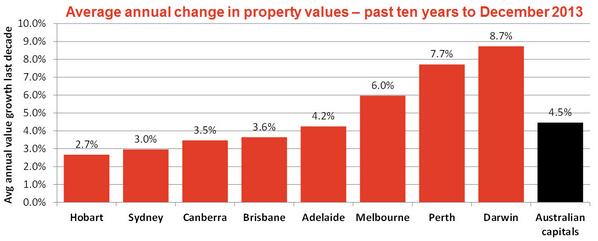 Source: RP Data
Bubble?
Typically a market bubble would see prices roaring upwards (such as in parts of Ireland where prices nigh on tripled in a very short period of time) before collapsing again.
Conversely, Sydney prices have steadily underperformed income growth for more than a decade.
That's not to say that there won't be some kind of cyclical correction in 2015 or 2016 - in all likelihood, there probably will be. But will it be an inevitable bust? Big call that.
It's also drawing a fairly long bow to describe the past six decades as a cyclical boom/bust market.
In some areas, the property markets had some moderate corrections (even recently, in 2008 and 2011/12) or periods of stagnation, such as in the 1970s and early 1990s. But not so much in the way of busts. Not in the capital cities.
Repayments low
Meanwhile, mortgage affordability has improved beyond owners' wildest dreams with standard variable rates falling to around just 5%.
I look back at a number of properties I bought in the inner suburbs of Sydney years ago and can scarcely believe how cheap the repayments are today.
This was also highlighted by Shannon Molloy in API Magazine in November in this earth-scorching article 
here
.
First home buyers to return
Expect to see the recorded numbers of first homebuyers steadily recovering in Victoria, Western Australia and South Australia over the next year.
Not so much in states like New South Wales where the equivalent figures simply aren't being recorded, and a fair percentage of first-timers choose to buy a rental property rather than a place of residence.
RP Data's Kusher notes that 28.4% of capital city homes have a value of under $400,000 (Sydney is the most expensive capital city property market, and the figure here is 17.5%), suggesting that the saving of a deposit, while undoubtedly tough for some people, is scarcely an impossible goal.
Waiting for a correction
Of course, you could try to outsmart the market and wait for the so-called inevitable property price correction before making the move in to the housing ladder, as has been strongly recommended by quite a number of commentators over the years.
With cities such as Sydney set to pump up its population by a quite 
breathtaking figure
in the coming years and decades fuelling ever-greater demand, personally I'm not so sure that's a smart choice.
Will median prices really be cheaper in 2030 when there are more than six million people crammed in to the same amount of space? Seriously doubtful.
Therefore, if you a are buying with a long-term horizon in mind, there is little to fear. Sure, if you are looking to buy and sell quickly, then that's a different story. But then, that's always the case in any property market - always has been, in fact.
As RP Data's figures in the chart show, continuing to sit it out has been a comparatively poor option over the past decade, a period through which diligent owners and savers have made significant inroads into their mortgage debt.
And so it will be again in 2014.
I suppose if you honestly believe that there will be a housing bust, then the answer is simple; continue to rent and await your time to make a move.
Most likely though, home owners will continue to do better than renters over the long haul, since rents continue to increase over time with inflation, while homeowners own an unencumbered asset at the end of the mortgage period.
Pete Wargent is the co-founder of AllenWargent property buyers (London, Sydney) and a best-selling author and blogger.
His new book 'Four Green Houses and a Red Hotel' is out now.