Sydney is firing but other markets are experiencing a 'slow melt'
Regular readers will know that I have for some time expected the Sydney property market to outperform based largely upon its strong fundamentals as compared to other Australian capitals combined with the harbour city's relative under-performance since the first quarter of 2004.
This is evidently now playing out fairly dramatically with reported dwelling prices up by around 10% in the matter of only a few months.
At the same time, various other real estate markets are not firing in anything like the same way.
In fact, when adjusted for inflation - as RP Data does in their enlightening chart below - most other property markets are some way below their previous peaks in 'real terms'.
In other words, certain markets may be experiencing what some have described, aptly, as a "slow melt".
That is, they may be gradually increasing in terms of actual dwelling prices over time, but capital growth on average could remain lower than the rate of income growth.
In doing so, such markets may well become more affordable over time as household incomes increase.
Hobart and Brisbane are two good examples of where current prices are comfortably more affordable than they were at the previous market peak (at least, on a city-wide basis).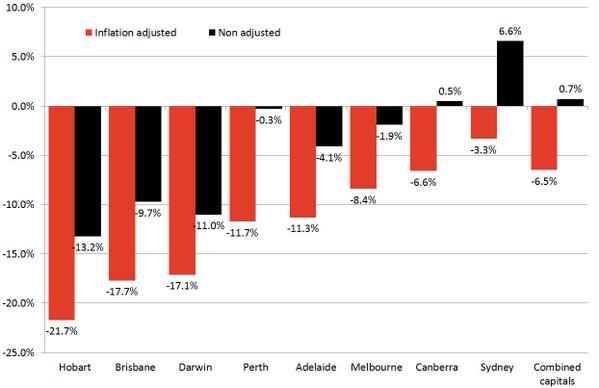 Source: RP Data
I'm aware that some people argue that not everyone is receiving pay rises right now. This is undoubtedly true. In fact, that is always the case.
But as the Australian Bureau of Statistics (ABS) data has shown, incomes have continued to rise in recent times on a national basis. Some industries - notably the mining and resources sector - have naturally fared better than others in terms of salary growth.
In any event, the current property market upturn is demonstrably largely a Sydney affair.
Interestingly, as recently as June of this year there were various misguided reports of a "weak" Sydney market (see the mid-year dip in RP Data's chart below), whereas now only a few short months later the pitchforks are out blaming Chinese buyers for forcing up our property prices.
Such are the pitfalls of daily home value indices and a greatly increased volume of reported data.
Source: RP Data
In other news, there were signs of inflation in this week's consumer price index (CPI) release for the quarter (the headline reading jumped to 1.2% for the quarter, although the trimmed mean and weighted median prints were sitting back in the desirable range) including in the housing and transport categories, although the ABS data was once again something of a mixed bag of messages.
Although inflation remains well under control on an annual basis, further interest rate cuts look to be doubtful at this stage. The data tumbling out of Sydney's housing market may represent one factor in the equation; the interesting movements in the Australian dollar recently was another.
---
Pete Wargent is the co-founder of AllenWargent property buyers (London, Sydney) and a best-selling author and blogger.
His new book 'Four Green Houses and a Red Hotel' is out now.